T-Rex Hates Pushups
If there's one thing a T-Rex hates, it's getting owned by a pushup! His little arms make it impossible to win any contests...poor T-Rex! Show a little love to the big guy in this soft heather gray tee screen printed in black ink!
Other shirts you may like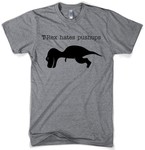 $16.99 plus shipping (based on location). Same day ship!
Posted by peterjborrelli at 13/1/2012
$20.99
Posted by twig at 21/7/2011