Beautiful Korean k-pop girls on a funky retro-comic style shirt!
Other shirts you may like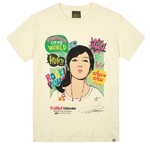 See other Gmarket shirts
Marked for KRW₩19,800 (approx US$17.33)

All the shirts are purchased from the same link. Just choose your design from the drop-down menu.
Posted by twig at 6/6/2012 (360 visits)
If you've seen a similar design for this shirt, why not share it here?
Hopefully somebody knows where to get it.
You can upload from a file on your computer or a URL from the internet.
---
Latest Comments
---
Random Shirt
---