Imagine the future. Imagine the mutated creatures that live on Earth!
Other shirts you may like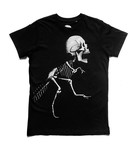 (show more shirts from store)
Black teee in unisex style.

Slim fit, soft single jersey 165g/m2

100% combed and enzyme washed cotton.

Tested for harmful substances, according to Oeko-Tex standard 100, Testex Zurich.
If you've seen a similar design for this shirt, why not share it here?
Hopefully somebody knows where to get it.
You can upload from a file on your computer or a URL from the internet.