Jedis and Rebels might spend their time deflecting your attacks back at you, but little do they know there is so much more to being a Stormtrooper than just that!



Are you up to being a soldier of the empire? Do you have what it takes to wear your white armor with pride?



This design features words, phrases, and quotes that is found to describe a Stormtrooper, as well as the Star Wars universe.
Other shirts you may like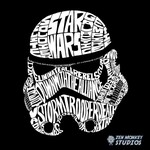 (show more shirts from store)
Here we have the 100% cotton Star Wars Code of the Trooper 30 Single T-Shirt which has a ton of words and phrases from Star Wars that happen to make up the form of a Stormtrooper helmet! Perhaps that's why they have such trouble hitting their marks...look at all of that metal clutter going on. Suddenly I feel really bad for always picking on them. Oh well! I'm thinking you may be able to lighten the load on our beloved Imperial soldiers with the Star Wars Code of the Trooper 30 Single T-Shirt!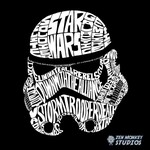 If you've seen a similar design for this shirt, why not share it here?
Hopefully somebody knows where to get it.
You can upload from a file on your computer or a URL from the internet.
---
Latest Comments
---
Random Shirt
---