He was a prototype combat robot designed to protect, but with a minor flaw in his power core he was destined to never reach his true potential.



Or at least that's what the world thought…



I guess it just goes to show you should never underestimate a determined robot. Especially one with a dashing scarf and an uncanny whistle!



An original wordy piece of typography by Josh Mirman!
Other shirts you may like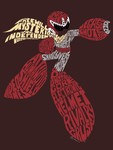 (show more shirts from store)
Super Fighting Prototype



The mysterious older brother returns. Just listen for a whistle, and you'll know he has arrived.



An homage to the classic game series, Mega Man. This handmade typography based off of Protoman was created using words and phrases to describe the character of a legendary video game series.
If you've seen a similar design for this shirt, why not share it here?
Hopefully somebody knows where to get it.
You can upload from a file on your computer or a URL from the internet.
---
Latest Comments
---
Random Shirt
---