This Brightside Of The Grenade tee from Chunk evokes memories of a certain Pink Floyd's "Dark Side Of The Moon" album, top cleverness marks go to Chunk's designers yet again!
Other shirts you may like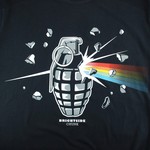 (show more shirts from store)
This cool black Chunk t shirt features a print inspired by the album art for 'Dark Side Of The Moon'. The print shows a hand grenade being pierced by a light beam, producing a rainbow.
If you've seen a similar design for this shirt, why not share it here?
Hopefully somebody knows where to get it.
You can upload from a file on your computer or a URL from the internet.
---
Latest Comments
---
Random Shirt
---