Alone they are strong, but together they can overcome anything. Ninjas, brothers, friends, rivals, they are all. And also turtles.



These hand drawn typography designs are a homage and inspired by the TMNT comics, cartoons, movies, and video games. All the words are handwritten to form a typography reminiscent of all four brothers, using words to describe them, the things they're from, and feelings associate to them.



---



Another wordy design by Josh Mirman.



This was briefly on sale at TeeFury, but we'll update links when it's available elsewhere.
Other shirts you may like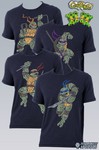 If you've seen a similar design for this shirt, why not share it here?
Hopefully somebody knows where to get it.
You can upload from a file on your computer or a URL from the internet.
---
Latest Comments
---
Random Shirt
---