This Predator shirt illustrates the muscular handshake between Al Dillon and Alan "Dutch" Schaefer. The shirt also features the quote "Dillon, You Son Of A B!#ch!".



With Carl Weathers portraying Dillon and Arnold Schwarzenegger portraying Schaefer, their Predator handshake is seen as one of the manliest gestures in cinematic history.



Let everyone know that you appreciate a good handshake and the movie Predator with this shirt.



You can savor every moment of looking at Dillon's arm before it was blown off by the Predator.
Other shirts you may like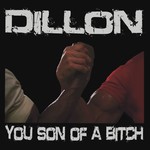 (show more shirts from store)
Predator Dillon You Son Of a Bitch Schwarzenegger Shirt



The famous arm wrestle that takes place between Dutch and Dillon in the movie Predator, after they haven't seen each other in years. Dillon jokingly says "some damn fool said that you were the best", and Dutch slowly turns as if he is unsure of who has just insulted him. However, he quickly realizes that it's his old friend Dillon, and they go in for a big hand shake followed by a mid-air arm wrestle. Dutch wins and accuses Dillon of having been pushing too many pencils. This is one of Schwarzenegger's most famous movie scenes.



by movieshirtguy
If you've seen a similar design for this shirt, why not share it here?
Hopefully somebody knows where to get it.
You can upload from a file on your computer or a URL from the internet.
---
Latest Comments
---
Random Shirt
---