An awesome shirt that has a zombie head printed on the inside.



If anyone asks the question, pull the shirt over your head and show em your racks!

I mean, zombie head.
Other shirts you may like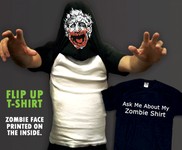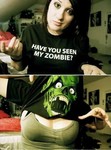 (show more shirts from store)
Apparently this design is available at Walmart.

Not sure about the pricing, but its certainly the better looking one.
If you've seen a similar design for this shirt, why not share it here?
Hopefully somebody knows where to get it.
You can upload from a file on your computer or a URL from the internet.
---
Latest Comments
---
Random Shirt
---