Phew. Now that the Black Friday and Cyber Monday craze is over, I hope you still have some money saved away for the great deals J!nx keeps throwing at us!
From 3rd to 25th of December, 2013. Check out all the details on J!nx Holiday Gift Guide.
25% off 5 tees
Buy 5 J!nx tees and get 25% off. Also get free wrapping paper!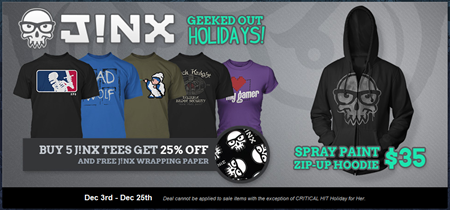 Desert Rangers: Wasteland 2
Buy 4 Wasteland tees and get 25% off.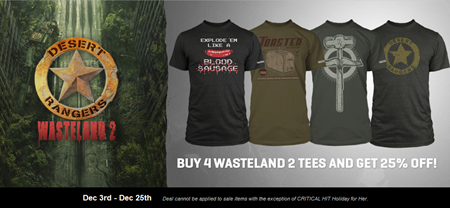 Minecraft
Save $10 when you buy:
Any 3 Minecraft vinyls
Any 3 Minecraft shirts
Any 3 Minecraft heads
Any 2 Minecraft wallets
Any 3 Minecraft wrapping paper sets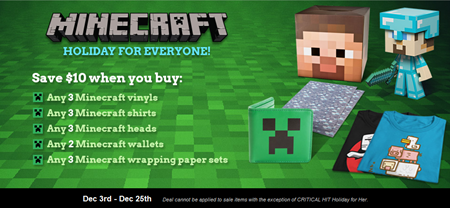 World of Warcraft: Mists of Pandaria
Don't brave the holiday snows without proper attire!
Buy 3 tees and get 25% off.
Buy any 2 jackets or hoodies and get a free Kobold plush hat.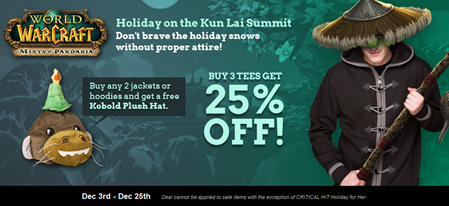 Starcraft: Heart of the Swarm
Buy 3 tees, get 30% off.
Buy any 2 jackets, get 25% off.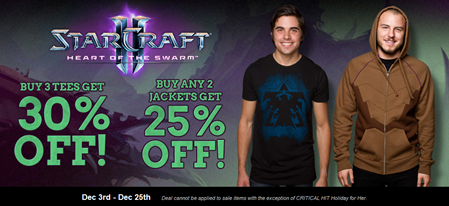 Diablo
Buy 3 tees, get 30% off.
Buy any 2 jackets, get 25% off.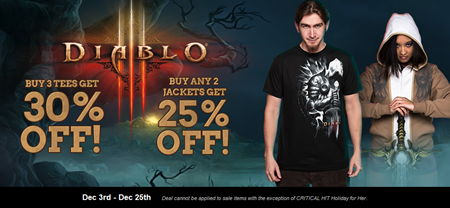 Battlefield 4
Buy 4 tees, get 20% off.
Buy the Battlefield Limited Edition Watch, get BF4 key ring.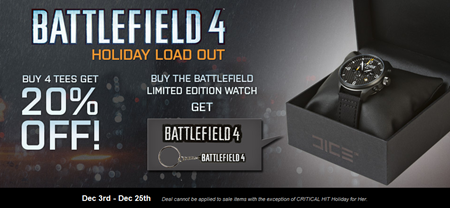 League of Legends
Buy 4 tees and get all 3 League of Legends posters.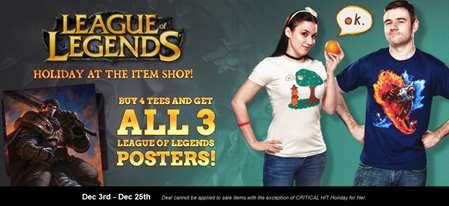 Call of Duty: Ghosts
Buy 4 Call of Duty tees, get 2 free posters.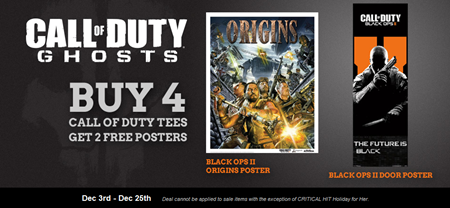 DOTA 2
Buy 4 DOTA tees with "digital unlock codes", get 25% off.
Codes are being discontinued; last chance to buy!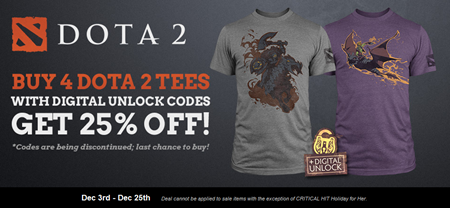 The Walking Dead
Survive the holidays!
Buy any 3 tees, get 30% off.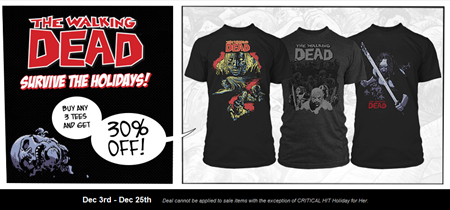 Portal 2
Holiday test chamber!
Buy 5 tees and get a free pair of Portal 2 weighted companion cube fuzzies.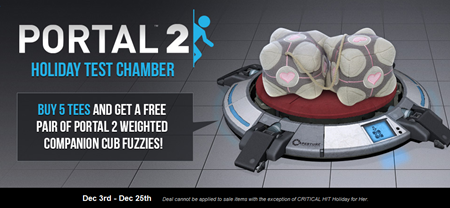 Retro Geek Holiday
Get the whole ATARI retro tee collection from J!nx.
That's 6 tees for the price of 4!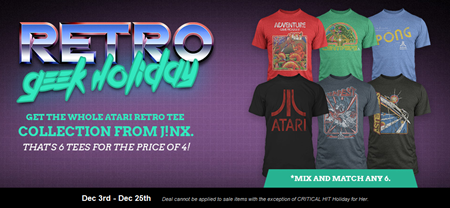 Half-Life 2: Black Mesa
Buy 2 Half-Life 2 zip-up hoodies and get 25% off.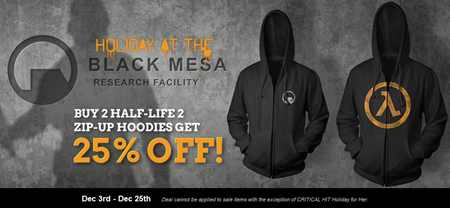 Team Fortress 2
Holiday payload!
Buy any 3 Team Fortress 2 tees, get a free "Meet the Pyro" sunset lithograph worth $24.99.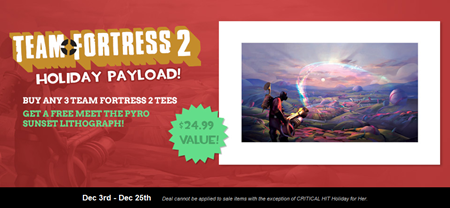 Geek & Sundry
Buy any 4 Geek & Sundry tees featuring The Guild and TableTop, get 30% off.
Stock your cart with our favourites or check out jinx.com.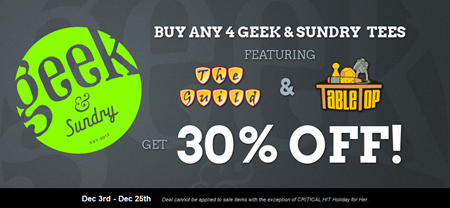 And that concludes the longest post on our blog, EVER!