And so the time has come again... It's the J!NX Holiday Sale! We dabbled in dark magics, mixed together strange ingredients, and created something we've never done before. This year, we have overall deals for you alongside individual super deals for each license! The savings are truly epic. Like landing on Isla Nublar and seeing dionosaurs for the first time epic. We're talking deals that wield two red lightsabers. We have single day deals for Black Friday (11/29) and Cyber Monday (12/2) as well as our full Holiday Sale that runs from 12/3 through 12/25. J!NX wishes each and every one of you a great holiday season!
There is a LOT of information on their reveal page, but for now we'll give the important parts. We'll post more savings once they start, but if you want to know more in advanced, check out the J!nx Holiday Gift Guide.
Black Friday: 29th of November, 2013
Buy any 3 shirts for $9.99 and get the 3rd one free!
Buy any 4 shirts for $14.99 and get the 4th one free!
Free J!nx wrapping paper on orders $80 or more.
World of Tanks: 29th of November to 25th of December, 2013.
Exclusive in-game items for World of Tanks: Roll out when you purchase 4 WoT apparel items (PZ.KPFW.B2 740F and an extra garage spot)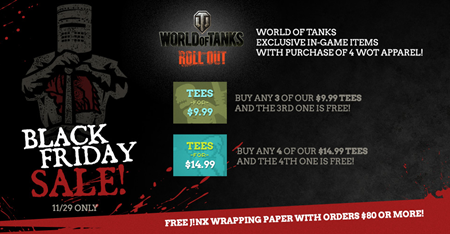 Other sales
Man, they've got quite a few brands under their belt. For instance, Cyber Monday is already on the cards.
J!nx also has some post-weekend sales on brands such as Wasteland 2, Minecraft, World of Warcraft, Starcraft, Diablo, Battlefield 4, League of Legends, Call of Duty Ghosts, DOTA 2, The Walking Dead, Portal 2, retro gaming, Black Mesa, Team Fortress 2 and Geek & Sundry Tees.
Stock your cart with our favourites or check out jinx.com.