Not a hoodie so I'll have to post it up in the blogs, but damn it's so awesome!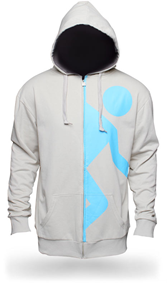 $59.99

Congratulations on being accepted as a test candidate for the Aperture Science Computer-Aided Enrichment Center. Please keep your hoodie on you at all times as the results of prolonged exposure of test subjects to the outside world are as yet unknown.

We've provided one end of this portal. The other end is up to you. Stuck in an endless meeting? Time to break out your handy dandy Aperture Science Handheld Portal Device and WOMPF yourself a way out. Elementary school concert? WOMPF. DMV? WOMPF. The possibilities are endless.
Grab it from ThinkGeek.com if you can.