Since we missed the 2 year birthday to launch the new site for That Awesome Shirt, we thought we'd set it into the world (wide web) in a spectacular fashion, LATE - COMPLETE WITH EXPLOSIONS!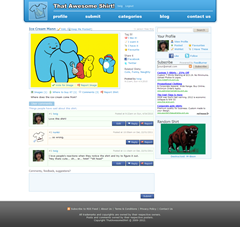 Our old-school "Web 1.0" design
While most of the functionality was tested already, we're still expecting a couple of things to break here and there.
Aside from the slick new style, what else have we done?
Site loads way faster! Rewritten from scratch, we've scrapped the old Drupal code that was weighing TAS down
Easier to submit shirts
Browse by stores, making it much easier to find stuff during sales
Easier to find your tagged shirts with better filtering (see your profile page)
Broken up the site to "Best of the Best" which contains the most awesome shirts, and "Latest shirts" which shows off all the shirts we have
Related shirts and latest comments to keep you hooked ;)
New categories: Religious and Weird
Shirt tags!
Share on Google+ and Tumblr
It even looks right (mostly) on IE6!
And much more, but overall the site sucks less!
Feel free to let us know what you think about the new update!